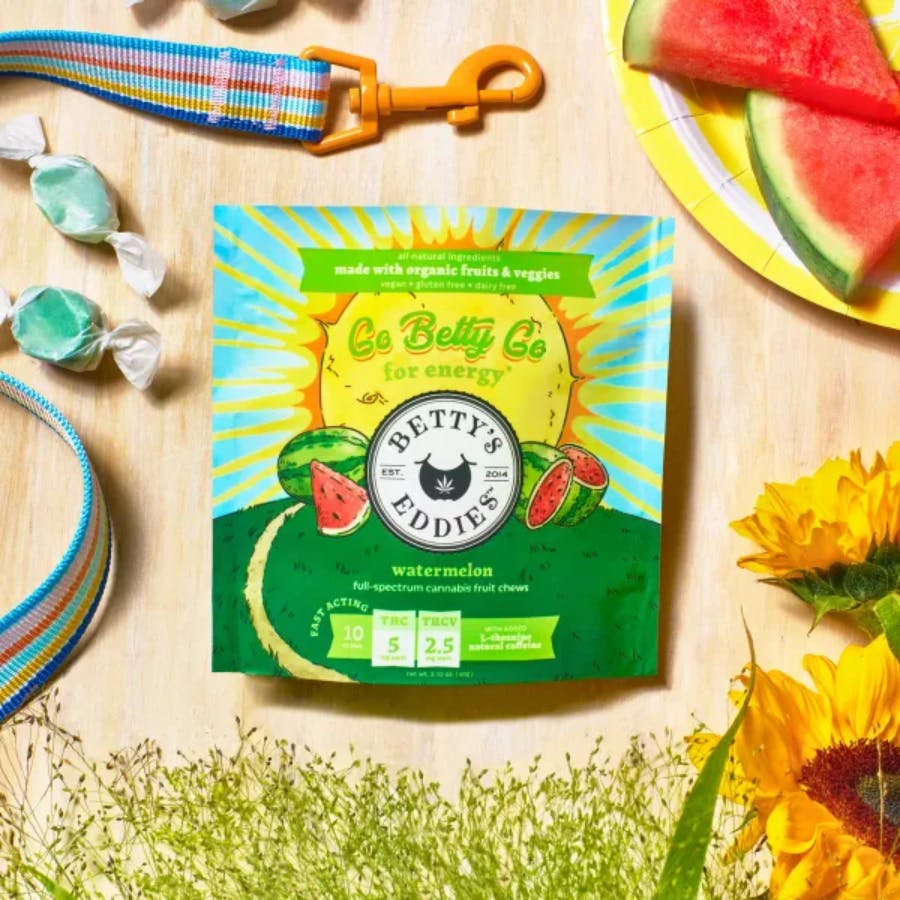 Brand: Betty's Eddies
Watermelon | 10 Servings
Betty's knows best – put some pep in your step! Our Go Betty Go watermelon chews are energetically infused with L-theanine, natural caffeine from coffee, and a blend of THC and THCV to help you go, go, go!
Effects
EnergeticHappyCreativeFocusedInspired
View Product Testing Data
THC-D9 (Delta 9–tetrahydrocannabinol)
51.6
THC-D9 (Delta 9–tetrahydrocannabinol)-51.6
Delta 9 THC is the primary compound found in the resinous glands of a cannabis plant, and is directly responsible for psychoactive effects. It mirrors the body's naturally occurring cannabinoids and attaches to these receptors to alter and enhance sensory perception. THC can create a feeling of euphoria by enhancing dopamine levels in the brain. The amount of THC in a cannabis product can vary widely based on the method of consumption and the strain at the source of that product. The high that is produced is often enhanced by the "entourage effect" which is a combination of multiple cannabinoids in conjunction with various terpenes and individual body chemistry.
THCV (Tetrahydrocannabivarin)
25.2
THCV (Tetrahydrocannabivarin)-25.2
THCV sets itself apart from its cousin THC with its distinct lack of psychoactive effects. THCV also acts as an allosteric modulator for Delta-9-THC thus reducing its psychoactivity. It has been found to be helpful as an appetite suppressant, neuroprotectant and glycemic control in type 2 diabetics.
"TAC" – Total Active Cannabinoids
79.2
"TAC" – Total Active Cannabinoids-79.2
Total active cannabinoids represent the total amount of active cannabinoids at the time of lab testing. This total of active cannabinoids considers all of the active compounds that the product holds.
About the brand :
Betty's Eddies
At Betty's Eddies, they're all about good, clean, fun.
Their mission is simple – do good for the community, cook with only clean ingredients and spread fun & positivity while they do it.
They're extra "chewsy" about our ingredients which means all Betty's Eddies are vegan, gluten-free, made with real fruits & veggies, and infused with naturally extracted THC.
Pure goodness, just the way Mother Nature (and Betty) intended.