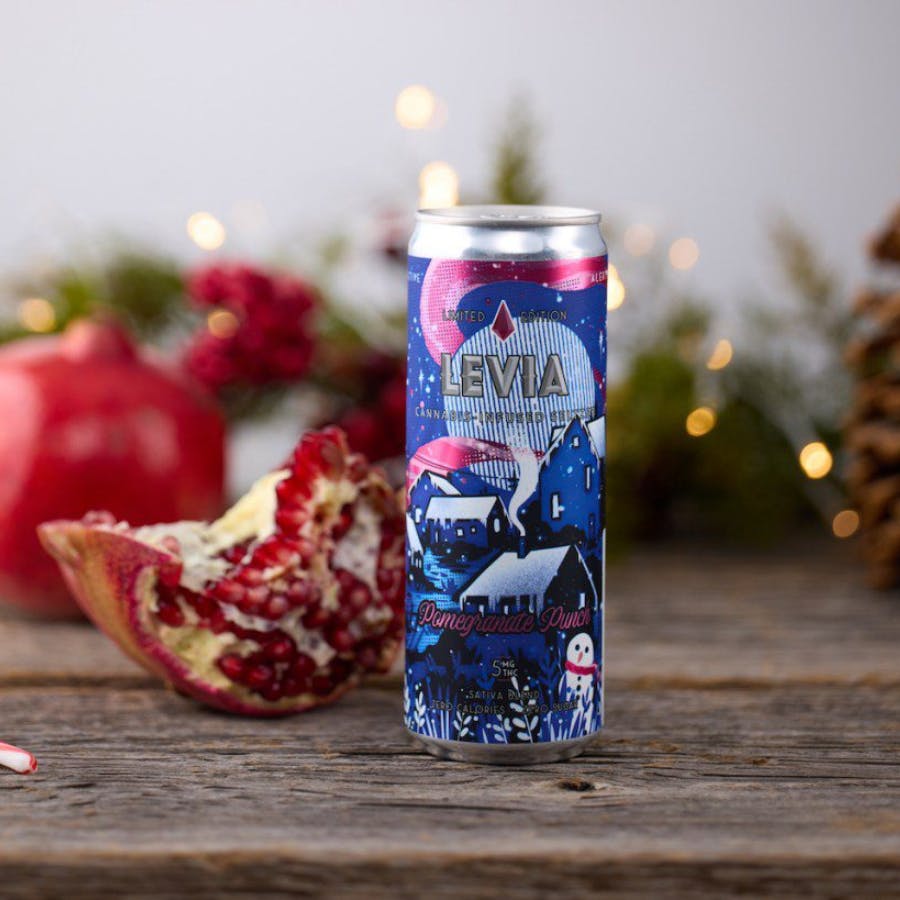 Brand: LEVIA
Pomegranate Punch | Single
LEVIA is bringing back the limited-edition Pomegranate Punch seltzer to Massachusetts to mark the winter season. The fan-favorite Pomegranate Punch consists of a hybrid cannabis blend, keeping consumers uplifted and social in a familiar, refreshing flavor. The limited-run seltzer features reimagined, original artwork from Dean McKeever, a Massachusetts illustrator known as "Keever," who specializes in craft beverage can design. Keever's design features a snowy landscape with a snowman and homes draped with blues, whites, and pinks to depict a chilling, winter night.
Effects
HappyEnergeticCreativeFocusedInspiredUplifted
View Product Testing Data
THC-D9 (Delta 9–tetrahydrocannabinol)
4.75
THC-D9 (Delta 9–tetrahydrocannabinol)-4.75
Delta 9 THC is the primary compound found in the resinous glands of a cannabis plant, and is directly responsible for psychoactive effects. It mirrors the body's naturally occurring cannabinoids and attaches to these receptors to alter and enhance sensory perception. THC can create a feeling of euphoria by enhancing dopamine levels in the brain. The amount of THC in a cannabis product can vary widely based on the method of consumption and the strain at the source of that product. The high that is produced is often enhanced by the "entourage effect" which is a combination of multiple cannabinoids in conjunction with various terpenes and individual body chemistry.
"TAC" – Total Active Cannabinoids
4.75
"TAC" – Total Active Cannabinoids-4.75
Total active cannabinoids represent the total amount of active cannabinoids at the time of lab testing. This total of active cannabinoids considers all of the active compounds that the product holds.
About the brand :
LEVIA
LEVIA has been creating the best tasting social seltzer. Rooted in simple, all-natural ingredients, LEVIA will elevate your experience with a fast & predictable onset of effects.
After years of research, they unlocked the secret to crisp & refreshing cannabis-infused drinks. And ever since, the days are lively, the nights are chill, and spirits are buoyed for friends and family alike.
LEVIA is excited to share all of our Elevated Experiences with you.