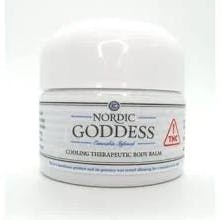 Brand: Sira
Nordic Goddess | Cooling Balm
High CBD
THC:491.68mg
CBD:7.84mg
Cannabis balms are a great way to ease muscle and joint pain in specific areas. While not intended to have psychoactive effects, balms can range widely in potency and efficacy and should be applied incrementally. Warming the application area slightly beforehand will aid absorption.
View Product Testing Data
CBC (Cannabichromene)
7.84
CBC (Cannabichromene)-7.84
CBC is a unique cannabinoid and is best known for its ability to bind to the TRPV1 and TRPA1 receptors in the brain which are responsible for pain perception. Topical applications of products high in CBC have also shown promise for the treatment of osteoarthritis symptoms and in the treatment of skin conditions such as acne.
CBD (Cannabidiol)
7.84
CBD (Cannabidiol)-7.84
CBD is the second most prevalent cannabinoid and is primarily produced by hemp plants and at lower amounts in cannabis. It works as a phytocannabinoid, or binding agent, that adheres to an individual's endocannabinoid system. Cannabidiol has soared in popularity due to its lack of psychoactive effects. Most users seek CBD for its medicinal properties since it was the first cannabinoid to be approved by the FDA. Its healing properties include an ability to help you relax, reduce irritability and ease restlessness.
CBG (Cannabigerol)
22.4
CBG (Cannabigerol)-22.4
Cannabinoids are synthesized by Cannabigerolic Acid. CBG is the decarboxylated form of this acid that appears at low levels in most cannabis plants. Because its properties are beneficial to multiple parts of the endocannabinoid system, CBG has a wide range of therapeutic uses. It is non-psychotropic and can provide analgesic and antidepressant qualities.
"TAC" – Total Active Cannabinoids
521.91
"TAC" – Total Active Cannabinoids-521.91
Total active cannabinoids represent the total amount of active cannabinoids at the time of lab testing. This total of active cannabinoids considers all of the active compounds that the product holds.
THC-D9 (Delta 9–tetrahydrocannabinol)
491.68
THC-D9 (Delta 9–tetrahydrocannabinol)-491.68
Delta 9 THC is the primary compound found in the resinous glands of a cannabis plant, and is directly responsible for psychoactive effects. It mirrors the body's naturally occurring cannabinoids and attaches to these receptors to alter and enhance sensory perception. THC can create a feeling of euphoria by enhancing dopamine levels in the brain. The amount of THC in a cannabis product can vary widely based on the method of consumption and the strain at the source of that product. The high that is produced is often enhanced by the "entourage effect" which is a combination of multiple cannabinoids in conjunction with various terpenes and individual body chemistry.