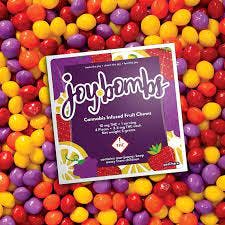 Brand: Root & Bloom
Joy Bombs | 40-Servings
Joy Bombs Candy-Coated Fruit Chews are precisely dosed with 2.5mg THC in each bite-sized piece, so you can micro-dose for days or nom the whole pouch for a 100mg adventure!
"TAC" - Total Active Cannabinoids
106.4
"TAC" - Total Active Cannabinoids-106.4
Total active cannabinoids represent the total amount of active cannabinoids at the time of lab testing. This total of active cannabinoids considers all of the active compounds that the product holds.
THC-D9 (Delta 9–tetrahydrocannabinol)
101.8
THC-D9 (Delta 9–tetrahydrocannabinol)-101.8
Delta 9 THC is the primary compound found in the resinous glands of a cannabis plant, and is directly responsible for psychoactive effects. It mirrors the body's naturally occurring cannabinoids and attaches to these receptors to alter and enhance sensory perception. THC can create a feeling of euphoria by enhancing dopamine levels in the brain. The amount of THC in a cannabis product can vary widely based on the method of consumption and the strain at the source of that product. The high that is produced is often enhanced by the "entourage effect" which is a combination of multiple cannabinoids in conjunction with various terpenes and individual body chemistry.
About the brand :
Root & Bloom
Root & Bloom is a Massachusetts cannabis cultivation, extraction & manufacturing company laser-focused on creating the best products and experiences–for everyone. They're a friendly (but competitive!) group who enjoys what they do. Their expertise and perspective help us create solutions that go far beyond just a good idea. With a head for innovation, a heart for sustainability, and feet firmly planted in their home state, Root & Bloom are here to ignite the industry.