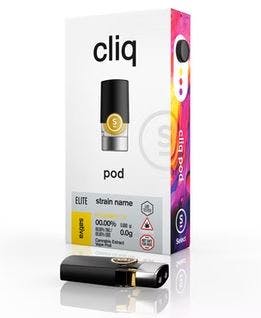 Brand: Select
Garlic Cookies | 0.5g Cliq Pod
Cliq's proprietary gravity-fed pods come filled with our famous Elite oil, our best selling oil on the market. Select Elite utilizes our highly refined distillation techniques to produce an activated, broad-spectrum oil with the highest THC levels available. Strain: Garlic Cookies is a heavily indica dominant hybrid strain created through crossing the potent Chemdawg X Girl Scout Cookies strains. Infamous for its heavy flavor and hard-hitting effects, this bud is a favorite of indica users around the world. Garlic Cookies has a flavor that, like its name suggests, is reminiscent of garlic with a light cookie diesel effect upon exhale. The aroma is very earthy with a heavy diesel overtone that lingers long after you finish toking. The Garlic Cookies high is much like its Girl Scout Cookies parent, with long-lasting effects that hit both mind and body.
Effects
Calm
Happy
Relaxed
Energetic
THC-D9 (Delta 9–tetrahydrocannabinol)
85%
THC-D9 (Delta 9–tetrahydrocannabinol)-85%
Delta 9 THC is the primary compound found in the resinous glands of a cannabis plant, and is directly responsible for psychoactive effects. It mirrors the body's naturally occurring cannabinoids and attaches to these receptors to alter and enhance sensory perception. THC can create a feeling of euphoria by enhancing dopamine levels in the brain. The amount of THC in a cannabis product can vary widely based on the method of consumption and the strain at the source of that product. The high that is produced is often enhanced by the "entourage effect" which is a combination of multiple cannabinoids in conjunction with various terpenes and individual body chemistry.
THCA (Δ9-tetrahydrocannabinolic acid)
0.5%
THCA (Δ9-tetrahydrocannabinolic acid)-0.5%
THCA is a cannabis compound with a laundry list of potential mental and physical health benefits. THCA is the non-psychoactive precursor to THC, the most famous cannabinoid of all. While THC is responsible for the psychoactive "high" that so many of us enjoy, THCA has shown great promise as an anti-inflammatory, neuroprotectant and anti-emetic for appetite loss and treatment of nausea. THCA is found in its highest levels in living or freshly harvested cannabis samples. For this reason some users choose to juice fresh cannabis leaves and flowers to get as much THCA as possible.
"TAC" - Total Active Cannabinoids
90.2%
"TAC" - Total Active Cannabinoids-90.2%
Total active cannabinoids represent the total amount of active cannabinoids at the time of lab testing. This total of active cannabinoids considers all of the active compounds that the product holds.
About the brand :
Select
Select holds their oil to the highest standards with the most stringent & progressive testing in the industry. They were the first company to begin proactively testing for a full panel of 66 analytes at the PPB (Parts Per Billion) level. Select uses Ethanol Hash Oil extraction methods, allowing for the greatest levels of cannabinoid retention. Select's thoughtful terpene preservation process delivers an unmatched oil, superior in quality & potency. Ceramic core technology evenly distributes heat to the oil, increasing quality & volume of vapor. Unbleached, organic cotton wicks mean enhanced purity, flavor, and quality in each puff