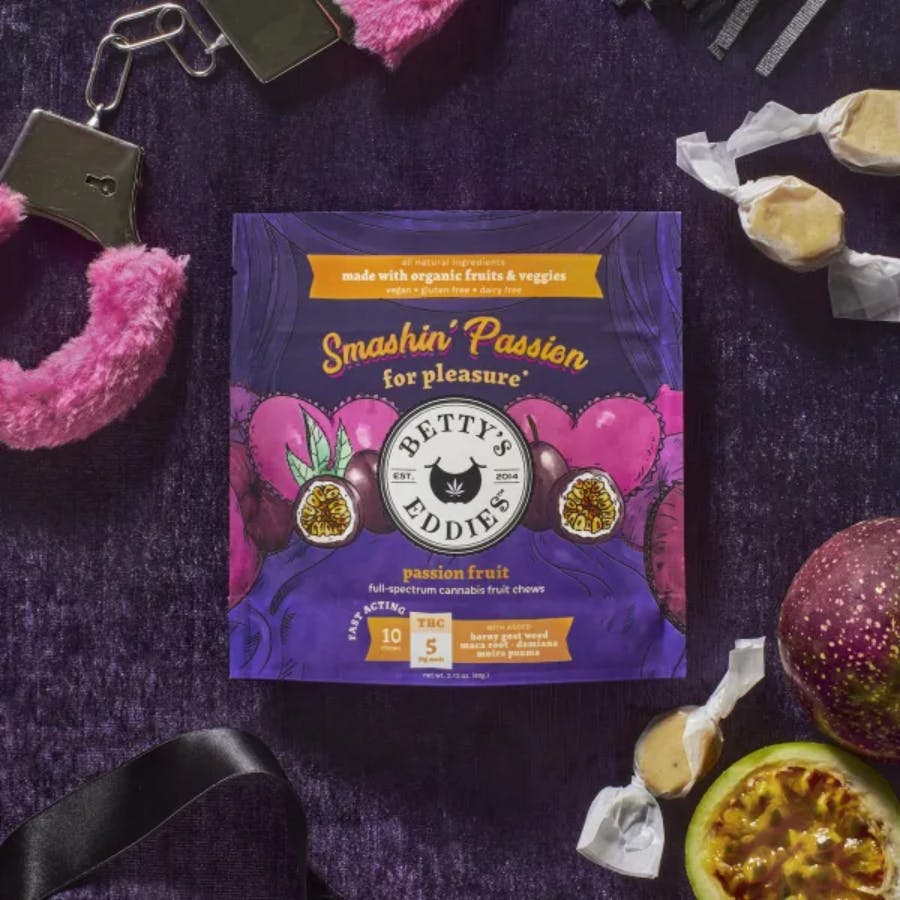 Brand: Betty's Eddies
Smashin Passion Fruit Chews | 10 Servings
Passion fruit flavor mix that is sure to get your summer groove on. Betty's blend of natural aphrodisiacs are hard to say, but easy to love. Used for thousands of years as sensual enhancers, these ingredients are a trusted and effective way for you and yours to get in the mood. Stimulate your body and mind with Smashin' Passion!
Betty's Eddies are handcrafted with only the best ingredients and a whole lotta love. They use full-spectrum cannabis oil and organic fruits and veggies, so you can have a tasty and dependable experience every time you "chews" them. Vegan, Gluten Free + Dairy Free.
If sweet relief is what you're looking for, eat your Eddies!
Ingredients: Glucose Syrup, Granulated Sugar, Full Spectrum Cannabis-Infused Coconut Oil, Water, Sunflower Lecithin, Citric Acid, Natural Flavor Oil, Potato Starch, Vegetable Juice Extract (For Color) Pectin, Tapioca Maltodextrin, Organic Dried Carrots, Organic Dried Sweet Corn, Maca Root Extract, Horny Goat Weed Extract, Damiana Extract, Malic Acid, Organic Freeze-Dried Passionfruit, Muira Puama
Effects
CalmEnergeticHappyRelaxed
View Product Testing Data
"TAC" – Total Active Cannabinoids
52.2
"TAC" – Total Active Cannabinoids-52.2
Total active cannabinoids represent the total amount of active cannabinoids at the time of lab testing. This total of active cannabinoids considers all of the active compounds that the product holds.
THC-D9 (Delta 9–tetrahydrocannabinol)
50.4
THC-D9 (Delta 9–tetrahydrocannabinol)-50.4
Delta 9 THC is the primary compound found in the resinous glands of a cannabis plant, and is directly responsible for psychoactive effects. It mirrors the body's naturally occurring cannabinoids and attaches to these receptors to alter and enhance sensory perception. THC can create a feeling of euphoria by enhancing dopamine levels in the brain. The amount of THC in a cannabis product can vary widely based on the method of consumption and the strain at the source of that product. The high that is produced is often enhanced by the "entourage effect" which is a combination of multiple cannabinoids in conjunction with various terpenes and individual body chemistry.
About the brand :
Betty's Eddies
At Betty's Eddies, they're all about good, clean, fun.
Their mission is simple – do good for the community, cook with only clean ingredients and spread fun & positivity while they do it.
They're extra "chewsy" about our ingredients which means all Betty's Eddies are vegan, gluten-free, made with real fruits & veggies, and infused with naturally extracted THC.
Pure goodness, just the way Mother Nature (and Betty) intended.