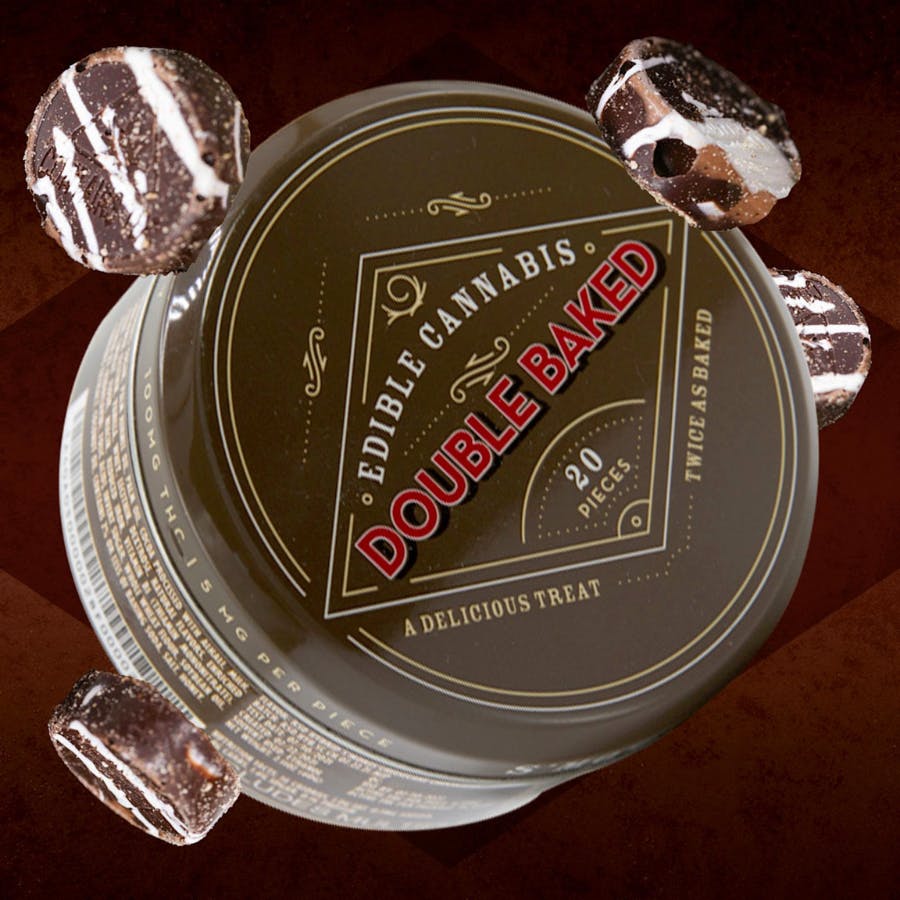 Brand: Double Baked
RSO S'Mores Cheesecake Chocolates | 20-Pack
Hybrid
THC:97.8mg
CBD:5.86mg
Our 20pk S'mores Cheesecake Chocolates combine the classic campfire flavors of chocolate, marshmallow, and graham crackers. With the traditional flavors of your favorite desserts, Double Baked Chocolates are a delicious treat – twice as tasty, twice as baked.
View Product Testing Data
THC-D8 (Delta 8-tetrahydrocannabinol)
4.68
THC-D8 (Delta 8-tetrahydrocannabinol)-4.68
Delta-8 THC is a cannabinoid with a similar structure to better known Delta-9 THC. While similar to Delta-9 THC in structure, Delta-8 THC is more often extracted from industrial hemp rather than medical grade cannabis. The effects of Delta-8 THC are also similar to that of Delta-9 THC, but much less potent. More research is needed to understand the additional effects of Delta-8 THC and what uses it might have for treating patients.
THC-D9 (Delta 9–tetrahydrocannabinol)
97.8
THC-D9 (Delta 9–tetrahydrocannabinol)-97.8
Delta 9 THC is the primary compound found in the resinous glands of a cannabis plant, and is directly responsible for psychoactive effects. It mirrors the body's naturally occurring cannabinoids and attaches to these receptors to alter and enhance sensory perception. THC can create a feeling of euphoria by enhancing dopamine levels in the brain. The amount of THC in a cannabis product can vary widely based on the method of consumption and the strain at the source of that product. The high that is produced is often enhanced by the "entourage effect" which is a combination of multiple cannabinoids in conjunction with various terpenes and individual body chemistry.
"TAC" – Total Active Cannabinoids
123.22
"TAC" – Total Active Cannabinoids-123.22
Total active cannabinoids represent the total amount of active cannabinoids at the time of lab testing. This total of active cannabinoids considers all of the active compounds that the product holds.
About the brand :
Double Baked
A DELICIOUS TREAT, TWICE BAKED.
A better baked edible experience with flavors you have to taste to believe. Say goodbye to the cannabis after-taste and hello to flavors like dark chocolate, cake batter and s'mores cheesecake. Double Baked Edibles are as delicious as they are elevating.