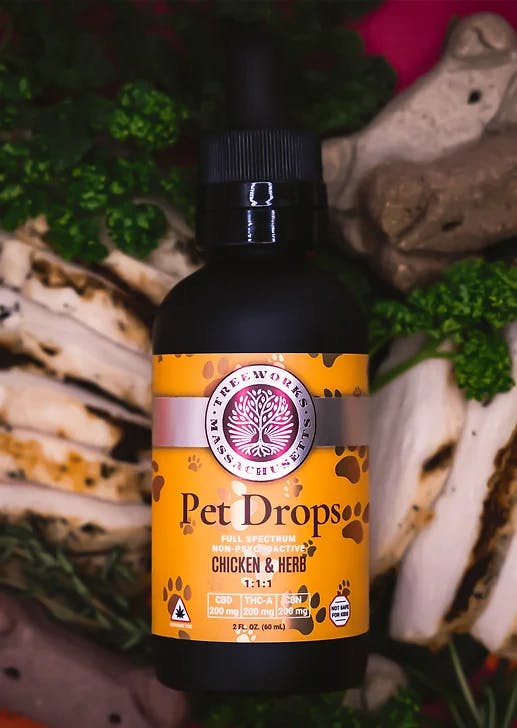 Brand: Treeworks
Pet Drops 1:1:1 | 30ml Tincture
The perfect blend of medicinal cannabinoids specifically catered towards your four-legged friends. Utilizing simple pet friendly ingredients combined with CBN, CBD, and non psychoactive THC-A, this feel good product is a must have for all animal lovers. Anything from discomfort, anxiety, sleeplessness, hyperactivity, pet depression or aging, Treeworks newest tincture; Pet Drops has your furry little friends covered.
View Product Testing Data
CBN (Cannabinol)
185.66
CBN (Cannabinol)-185.66
CBN is a cannabinoid that is created during the breakdown of THC by UV light and exposure to oxygen. This breakdown usually begins during the drying and curing process. CBN is most commonly found in older or improperly stored cannabis samples. This compound is mildly psychoactive and is best known for its sedative effects. Strains and products with high concentrations of CBN can be a great choice for users looking to utilize cannabis products to ease restlessness and promote healthy sleep.
THCA (Δ9-tetrahydrocannabinolic acid)
192.75
THCA (Δ9-tetrahydrocannabinolic acid)-192.75
THCA is a cannabis compound with a laundry list of potential mental and physical health benefits. THCA is the non-psychoactive precursor to THC, the most famous cannabinoid of all. While THC is responsible for the psychoactive "high" that so many of us enjoy, THCA has shown great promise as an anti-inflammatory, neuroprotectant and anti-emetic for appetite loss and treatment of nausea. THCA is found in its highest levels in living or freshly harvested cannabis samples. For this reason some users choose to juice fresh cannabis leaves and flowers to get as much THCA as possible.
"TAC" – Total Active Cannabinoids
597.47
"TAC" – Total Active Cannabinoids-597.47
Total active cannabinoids represent the total amount of active cannabinoids at the time of lab testing. This total of active cannabinoids considers all of the active compounds that the product holds.
About the brand :
Treeworks
Treeworks Brings quality, healthy, and fun products to the Commonwealth. Their exceptional products create a wonderfully balanced and full-bodied experience known as the "entourage effect". This is achieved by using only full-spectrum and full cannabinoid cannabis oil. You can truly notice the difference with Treeworks products.