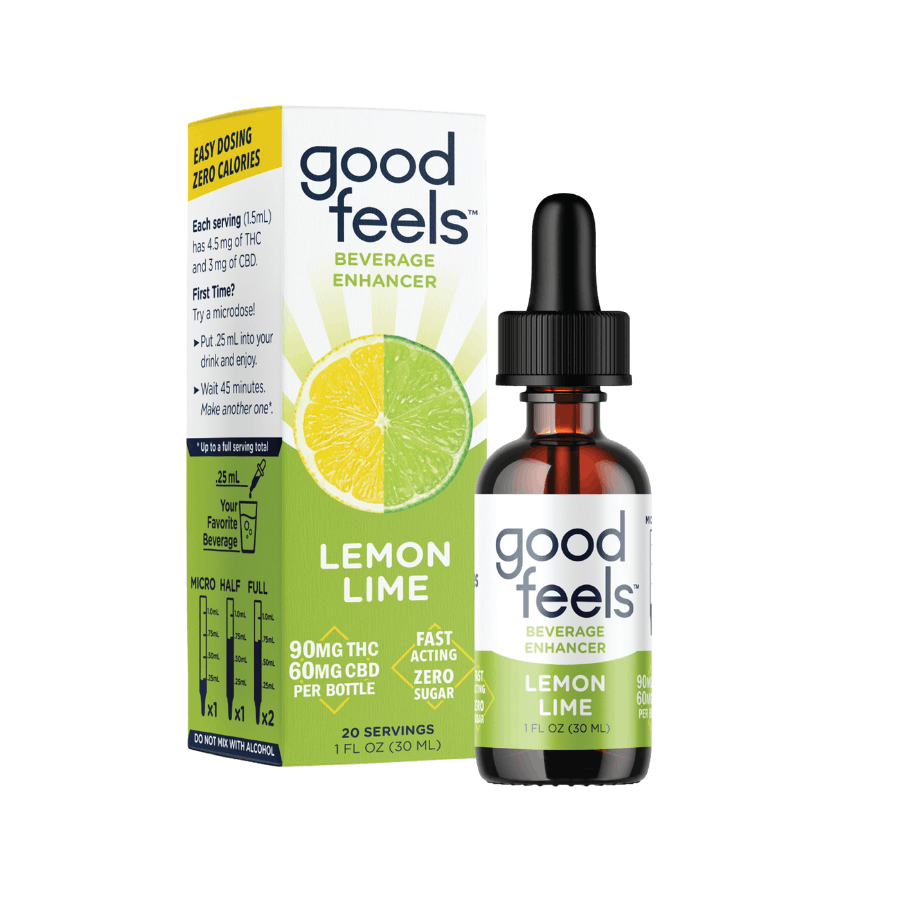 Brand: Good Feels
Lemon Lime | Beverage Enhancer
High CBD
THC:92.4mg
CBD:65.4mg
Good Feels "go anywhere" beverage enhancers allow you to make any drink into a cannabis-infused drink – no matter where you are. Made with nano-particle cannabinoids, the Beverage Enhancer is nearly dissolvable in any liquid, making it easy to build your own experience with this fast-acting drink mix-in. You can expect good feels to set in about 5-10 minutes after finishing your beverage. Try the Lemon Lime flavor for a delicious hint of citrus- or our flavorless option to boost your drink without changing the flavor. Scan the QR code on the box for simple instructions and recipes. Zero sugar, zero calories, all the mojo. Now that feels good.
Each serving delivers approximately 4.5mg THC and 3mg CBD for perfectly good feels.
Effects
Clear MindCalmRelaxedHappy
View Product Testing Data
THC-D9 (Delta 9–tetrahydrocannabinol)
92.4
THC-D9 (Delta 9–tetrahydrocannabinol)-92.4
Delta 9 THC is the primary compound found in the resinous glands of a cannabis plant, and is directly responsible for psychoactive effects. It mirrors the body's naturally occurring cannabinoids and attaches to these receptors to alter and enhance sensory perception. THC can create a feeling of euphoria by enhancing dopamine levels in the brain. The amount of THC in a cannabis product can vary widely based on the method of consumption and the strain at the source of that product. The high that is produced is often enhanced by the "entourage effect" which is a combination of multiple cannabinoids in conjunction with various terpenes and individual body chemistry.
"TAC" – Total Active Cannabinoids
157.8
"TAC" – Total Active Cannabinoids-157.8
Total active cannabinoids represent the total amount of active cannabinoids at the time of lab testing. This total of active cannabinoids considers all of the active compounds that the product holds.
About the brand :
Good Feels
Have you ever had this lightbulb moment after a night out?
"Drinking just doesn't feel good anymore"
Ya… Good Feels' too.
Thats why they've created deliciously satisfying cannabis-infused seltzers and beverage enhancers. With no alcohol and all the flavor of a deliciously carbonated seltzer, Good Feels' infused beverages – made with pure cannabis extractions – provide a balance of CBD and THC in a crisp sparkling beverage.
Have you ever wished you could make a regular beverage into a cannabis-infused beverage? Now you can with just a few drops of the Good Feels Beverage Enhancer. This on-the-go option makes every drink a Good Feels drink. Perfect for micro-dosing, the Beverage Enhancers are fast-acting, has a clean consistent taste, and make it easy to control your desired experience.
*Zero Sugar
*Zero Calorie
*Fast Acting
*Easy Dosing
*No Hangover
A better alternative to drinking & smoking, helping you to become a better you. Explore Good Feels line of cannabis-infused seltzers and beverage enhancer drink drops in the state of Massachusetts and keep an eye out for seasonal limited-time flavors.