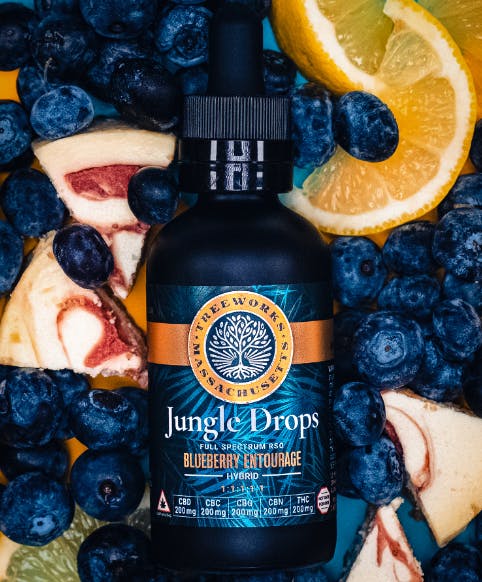 Brand: Treeworks
Jungle Drops 1:1:1:1:1 | 30ml Tincture
High CBD
THC:204.01mg
CBD:216.05mg
DESCRIPTION
The 2022 High Times Cannabis Cup Winner. Enjoy the complete "Entourage Experience"! Packed with medicinal benefits, Jungle Drops provide well-balanced and highly enjoyable effects. Combining the 5 most well-paired cannabinoids: THC, CBD, CBG, CBN, and CBC into one tincture, Jungle Drops create an uplifting yet soothing mind and body experience unlike the rest. A new company favorite.
PROPERTIES
• Blueberry Pie Flavor
• Soothes Pain
• Euphoric/Relaxing
• Full Body High
• Full Spectrum/Full Cannabinoid
• Organic, Vegan, Gluten Free, Sugar Free
INGREDIENTS
Read More
• Organic Conconut Oil
• Cannabis RSO
• CBD
• CBG
• CBN
• CBC
• Organic Flavors
• Organic Stevia
CANNABINOIDS
• CBD may help with anxiety, pain, muscle relaxation and happiness
• CBN may help with sleep, pain, anxiety and anti-bacterial
• CBG may help with focus, attention, inflammation and appetite
• CBC may help with mood, pain, skin and inflammation
Effects
Clear MindCalmRelaxedHappy
View Product Testing Data
CBC (Cannabichromene)
216.05
CBC (Cannabichromene)-216.05
CBC is a unique cannabinoid and is best known for its ability to bind to the TRPV1 and TRPA1 receptors in the brain which are responsible for pain perception. Topical applications of products high in CBC have also shown promise for the treatment of osteoarthritis symptoms and in the treatment of skin conditions such as acne.
CBG (Cannabigerol)
220.86
CBG (Cannabigerol)-220.86
Cannabinoids are synthesized by Cannabigerolic Acid. CBG is the decarboxylated form of this acid that appears at low levels in most cannabis plants. Because its properties are beneficial to multiple parts of the endocannabinoid system, CBG has a wide range of therapeutic uses. It is non-psychotropic and can provide analgesic and antidepressant qualities.
CBN (Cannabinol)
200.97
CBN (Cannabinol)-200.97
CBN is a cannabinoid that is created during the breakdown of THC by UV light and exposure to oxygen. This breakdown usually begins during the drying and curing process. CBN is most commonly found in older or improperly stored cannabis samples. This compound is mildly psychoactive and is best known for its sedative effects. Strains and products with high concentrations of CBN can be a great choice for users looking to utilize cannabis products to ease restlessness and promote healthy sleep.
THC-D9 (Delta 9–tetrahydrocannabinol)
204.01
THC-D9 (Delta 9–tetrahydrocannabinol)-204.01
Delta 9 THC is the primary compound found in the resinous glands of a cannabis plant, and is directly responsible for psychoactive effects. It mirrors the body's naturally occurring cannabinoids and attaches to these receptors to alter and enhance sensory perception. THC can create a feeling of euphoria by enhancing dopamine levels in the brain. The amount of THC in a cannabis product can vary widely based on the method of consumption and the strain at the source of that product. The high that is produced is often enhanced by the "entourage effect" which is a combination of multiple cannabinoids in conjunction with various terpenes and individual body chemistry.
"TAC" – Total Active Cannabinoids
1062.4
"TAC" – Total Active Cannabinoids-1062.4
Total active cannabinoids represent the total amount of active cannabinoids at the time of lab testing. This total of active cannabinoids considers all of the active compounds that the product holds.
About the brand :
Treeworks
Treeworks Brings quality, healthy, and fun products to the Commonwealth. Their exceptional products create a wonderfully balanced and full-bodied experience known as the "entourage effect". This is achieved by using only full-spectrum and full cannabinoid cannabis oil. You can truly notice the difference with Treeworks products.