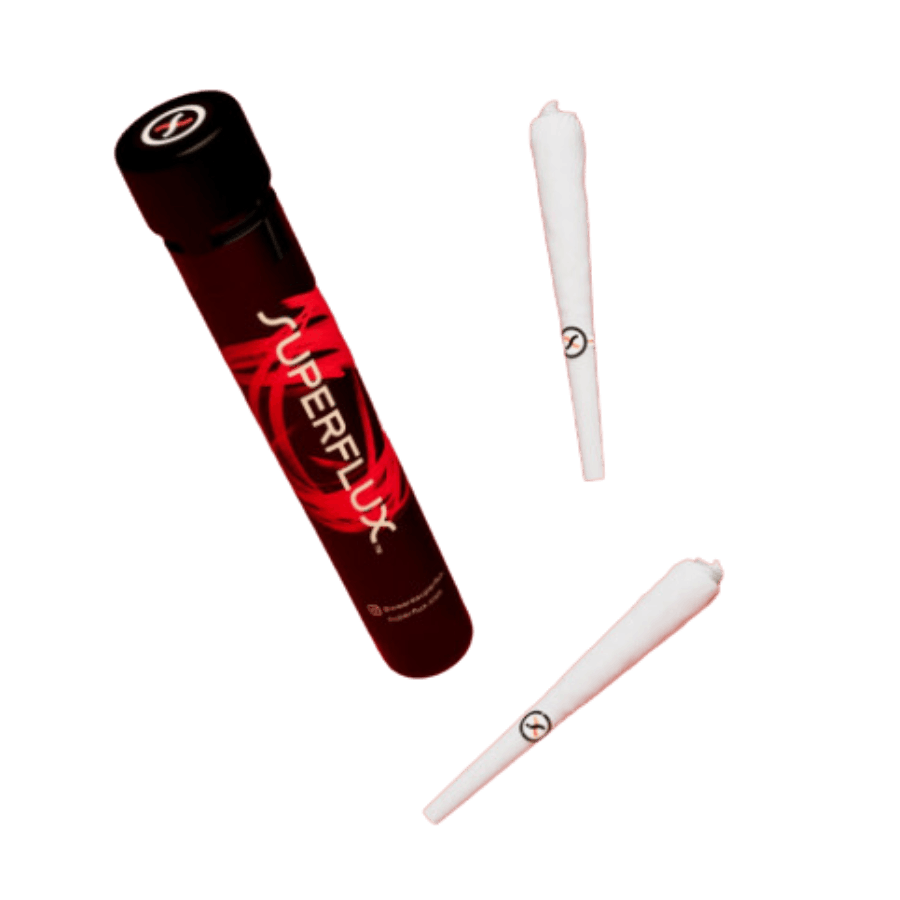 Brand: Superflux
Grapple Pie | Infused 0.5g PreRoll 2 Pack
Another flavorful cut from Compound Genetics, Grapple Pie is a cross of Apple Fritter and Grape Gasoline. This relaxing strain is best suited for evening use, and has powerful aromas of grape, diesel, and tart candy. Deep purple and green hues make Grapple Pie a standout strain on the shelf and at home.
Effects
RelaxedSleepyHappy
View Product Testing Data
"TAC" – Total Active Cannabinoids
49.53%
"TAC" – Total Active Cannabinoids-49.53%
Total active cannabinoids represent the total amount of active cannabinoids at the time of lab testing. This total of active cannabinoids considers all of the active compounds that the product holds.
THC-D9 (Delta 9–tetrahydrocannabinol)
1.2%
THC-D9 (Delta 9–tetrahydrocannabinol)-1.2%
Delta 9 THC is the primary compound found in the resinous glands of a cannabis plant, and is directly responsible for psychoactive effects. It mirrors the body's naturally occurring cannabinoids and attaches to these receptors to alter and enhance sensory perception. THC can create a feeling of euphoria by enhancing dopamine levels in the brain. The amount of THC in a cannabis product can vary widely based on the method of consumption and the strain at the source of that product. The high that is produced is often enhanced by the "entourage effect" which is a combination of multiple cannabinoids in conjunction with various terpenes and individual body chemistry.
THCA (Δ9-tetrahydrocannabinolic acid)
46.57%
THCA (Δ9-tetrahydrocannabinolic acid)-46.57%
THCA is a cannabis compound with a laundry list of potential mental and physical health benefits. THCA is the non-psychoactive precursor to THC, the most famous cannabinoid of all. While THC is responsible for the psychoactive "high" that so many of us enjoy, THCA has shown great promise as an anti-inflammatory, neuroprotectant and anti-emetic for appetite loss and treatment of nausea. THCA is found in its highest levels in living or freshly harvested cannabis samples. For this reason some users choose to juice fresh cannabis leaves and flowers to get as much THCA as possible.
About the brand :
Superflux
Because nature moves at its own pace, Superflux believes in taking the time to produce the best they can, not the most they can. Creating Superflux takes many months of attention, dedication, and passion. Cultivation starts by selecting the right genetics from seed, then fostering the growth of cannabis seedlings from germination into hundreds of mature, flowering plants. Sorting through tables of individual plants to find favorites requires careful evaluation, a keen nose and a discerning eye—all honed through years of experience. Superflux's strain inventory is born out of direct interaction with the plants' unique qualities—leaf shape, flower size, genetic traits, smell, trichomes—and the volumes of data that catalog every statistic—cannabinoid content, terpenes, levels of purity. Superflux is for anyone curious to find the next level of flavor and sophistication in the craft of cannabis. Get the most from every moment, from seed t o self.