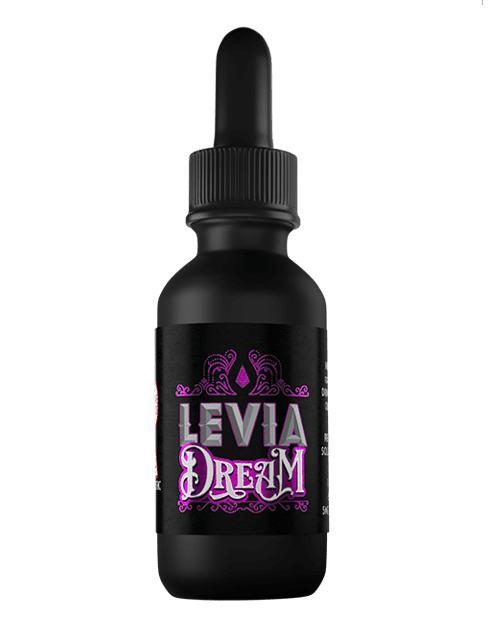 Brand: LEVIA
Dream | Tincture 300mg
LEVIA Dream Smooths out the corners of your day. One-up your couch game. LEVIA & Chill with LEVIA Dream Indica blend for that peaceful, Easy feeling.
All LEVIA products provide a fast & predictable onset, consistent experience, and no hangover.
Effects
RelaxedSleepyHappyCalm
View Product Testing Data
CBG (Cannabigerol)
10.19
CBG (Cannabigerol)-10.19
Cannabinoids are synthesized by Cannabigerolic Acid. CBG is the decarboxylated form of this acid that appears at low levels in most cannabis plants. Because its properties are beneficial to multiple parts of the endocannabinoid system, CBG has a wide range of therapeutic uses. It is non-psychotropic and can provide analgesic and antidepressant qualities.
CBN (Cannabinol)
6
CBN (Cannabinol)-6
CBN is a cannabinoid that is created during the breakdown of THC by UV light and exposure to oxygen. This breakdown usually begins during the drying and curing process. CBN is most commonly found in older or improperly stored cannabis samples. This compound is mildly psychoactive and is best known for its sedative effects. Strains and products with high concentrations of CBN can be a great choice for users looking to utilize cannabis products to ease restlessness and promote healthy sleep.
THC-D9 (Delta 9–tetrahydrocannabinol)
312
THC-D9 (Delta 9–tetrahydrocannabinol)-312
Delta 9 THC is the primary compound found in the resinous glands of a cannabis plant, and is directly responsible for psychoactive effects. It mirrors the body's naturally occurring cannabinoids and attaches to these receptors to alter and enhance sensory perception. THC can create a feeling of euphoria by enhancing dopamine levels in the brain. The amount of THC in a cannabis product can vary widely based on the method of consumption and the strain at the source of that product. The high that is produced is often enhanced by the "entourage effect" which is a combination of multiple cannabinoids in conjunction with various terpenes and individual body chemistry.
"TAC" – Total Active Cannabinoids
331.8
"TAC" – Total Active Cannabinoids-331.8
Total active cannabinoids represent the total amount of active cannabinoids at the time of lab testing. This total of active cannabinoids considers all of the active compounds that the product holds.
About the brand :
LEVIA
LEVIA has been creating the best tasting social seltzer. Rooted in simple, all-natural ingredients, LEVIA will elevate your experience with a fast & predictable onset of effects.
After years of research, they unlocked the secret to crisp & refreshing cannabis-infused drinks. And ever since, the days are lively, the nights are chill, and spirits are buoyed for friends and family alike.
LEVIA is excited to share all of our Elevated Experiences with you.