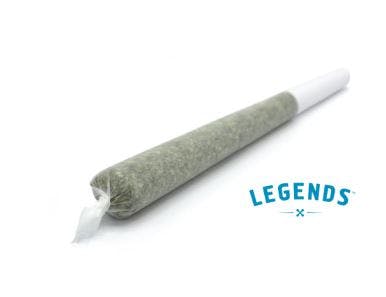 Brand: Legends
Banana Puddintain | 1g PreRoll
Banana Puddintain Strain is a pure indica from Swamp Boys Seeds. The profile is unmistakably reminiscent of an over-ripe banana. The effects may be immediate with a buzzy and foggy mental softening that coincides with a physical heaviness.
Genetics:
Banana OG x GMO Trigerian Skunk
Effects
CalmHappyRelaxedEnergetic
View Product Testing Data
THC-D9 (Delta 9–tetrahydrocannabinol)
0.3%
THC-D9 (Delta 9–tetrahydrocannabinol)-0.3%
Delta 9 THC is the primary compound found in the resinous glands of a cannabis plant, and is directly responsible for psychoactive effects. It mirrors the body's naturally occurring cannabinoids and attaches to these receptors to alter and enhance sensory perception. THC can create a feeling of euphoria by enhancing dopamine levels in the brain. The amount of THC in a cannabis product can vary widely based on the method of consumption and the strain at the source of that product. The high that is produced is often enhanced by the "entourage effect" which is a combination of multiple cannabinoids in conjunction with various terpenes and individual body chemistry.
THCA (Δ9-tetrahydrocannabinolic acid)
30.6%
THCA (Δ9-tetrahydrocannabinolic acid)-30.6%
THCA is a cannabis compound with a laundry list of potential mental and physical health benefits. THCA is the non-psychoactive precursor to THC, the most famous cannabinoid of all. While THC is responsible for the psychoactive "high" that so many of us enjoy, THCA has shown great promise as an anti-inflammatory, neuroprotectant and anti-emetic for appetite loss and treatment of nausea. THCA is found in its highest levels in living or freshly harvested cannabis samples. For this reason some users choose to juice fresh cannabis leaves and flowers to get as much THCA as possible.
"TAC" – Total Active Cannabinoids
31.8%
"TAC" – Total Active Cannabinoids-31.8%
Total active cannabinoids represent the total amount of active cannabinoids at the time of lab testing. This total of active cannabinoids considers all of the active compounds that the product holds.
About the brand :
Legends
The Legends brand offers "Legendary" strains featuring classics such as Blue Dream, Super Lemon Haze, and Green Crack. This high yielding flower makes it easily accessible to anyone in the market. This brand is an ideal option for novice and experienced smokers alike.