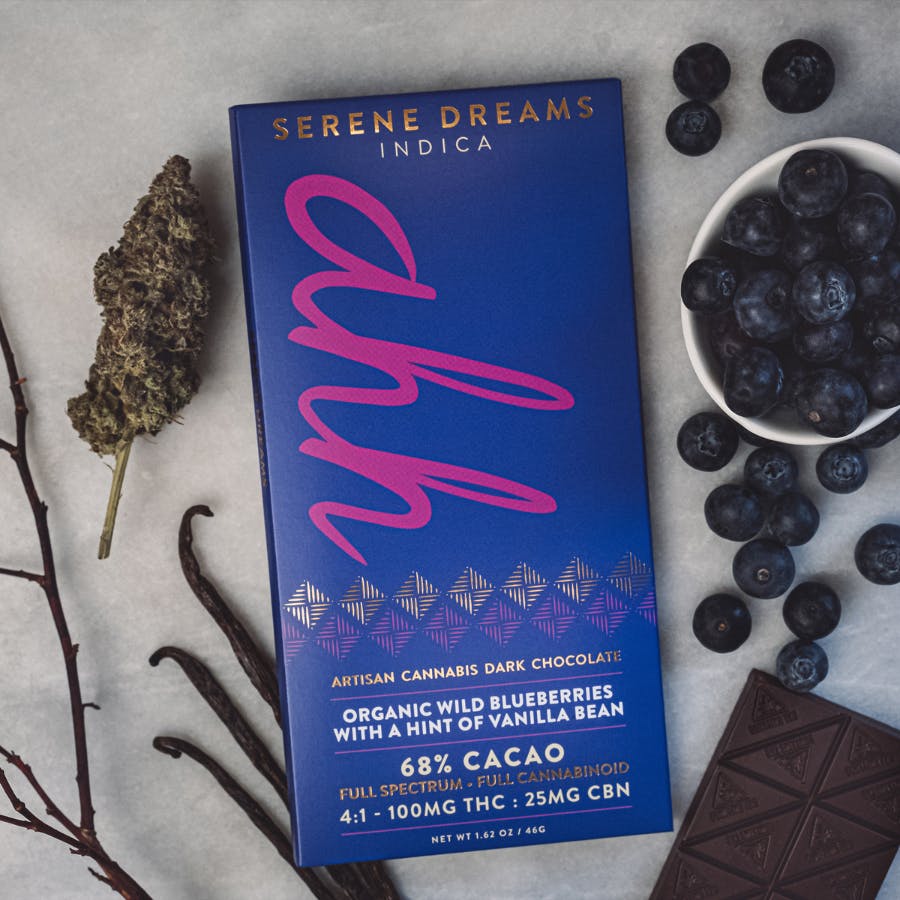 Brand: Ahh Chocolate
Ahh Blueberry Indica Serene Dreams Chocolate | 20-Servings
Hand crafted using Treeworks RSO with CBN to support revitalizing, rest and relaxation. Fair Trade, Single Source Dominican cacao, Organically grown Wild Blueberries and luxurious Vanilla Bean. An antioxidant powerhouse, anti-inflammatory, anthocyanin rich and neuro-protective. Fight free radicals and rejuvenate with this delicious, beneficial edible.
Effects
Relaxed
Sleepy
Happy
Calm
CBN (Cannabinol)
24.16
CBN (Cannabinol)-24.16
CBN is a cannabinoid that is created during the breakdown of THC by UV light and exposure to oxygen. This breakdown usually begins during the drying and curing process. CBN is most commonly found in older or improperly stored cannabis samples. This compound is mildly psychoactive and is best known for its sedative effects. Strains and products with high concentrations of CBN can be a great choice for users looking to utilize cannabis products to ease restlessness and promote healthy sleep.
"TAC" - Total Active Cannabinoids
115.2
"TAC" - Total Active Cannabinoids-115.2
Total active cannabinoids represent the total amount of active cannabinoids at the time of lab testing. This total of active cannabinoids considers all of the active compounds that the product holds.
THC-D9 (Delta 9–tetrahydrocannabinol)
87.76
THC-D9 (Delta 9–tetrahydrocannabinol)-87.76
Delta 9 THC is the primary compound found in the resinous glands of a cannabis plant, and is directly responsible for psychoactive effects. It mirrors the body's naturally occurring cannabinoids and attaches to these receptors to alter and enhance sensory perception. THC can create a feeling of euphoria by enhancing dopamine levels in the brain. The amount of THC in a cannabis product can vary widely based on the method of consumption and the strain at the source of that product. The high that is produced is often enhanced by the "entourage effect" which is a combination of multiple cannabinoids in conjunction with various terpenes and individual body chemistry.