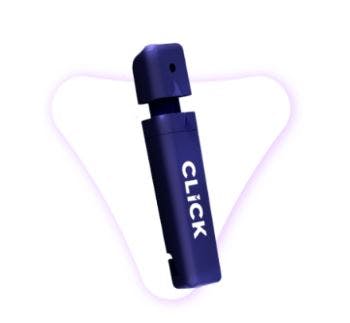 Brand: Ration
200mg Dream 1:2 Cool Mint | Click Spray
High CBD
THC:69.28mg
CBD:136.49mg
1:2 THC:CBD + Melatonin + Midnight Mint Flavor
CLICK'S DREAM formulation uses the highest grade of CBD and THC cannabinoids and is designed to give you a great night's sleep. Midnight Mint uses the deep-sleep inducing effects of Melatonin combined with the aromatic and digestive-aids found in peppermint which also increase airflow in your nasal cavity so you can sleep better. Getting a good night's sleep shouldn't be an exception – it should be the rule!
Talk about Sweet Dreams!
• 200mg/80 clicks/2.5mg per click
• Cool mint flavor
• Keychain hook
• Patented ergonomic design
• Lock/unlock function
Effects
Clear MindCalmRelaxedHappy
View Product Testing Data
CBD (Cannabidiol)
136.49
CBD (Cannabidiol)-136.49
CBD is the second most prevalent cannabinoid and is primarily produced by hemp plants and at lower amounts in cannabis. It works as a phytocannabinoid, or binding agent, that adheres to an individual's endocannabinoid system. Cannabidiol has soared in popularity due to its lack of psychoactive effects. Most users seek CBD for its medicinal properties since it was the first cannabinoid to be approved by the FDA. Its healing properties include an ability to help you relax, reduce irritability and ease restlessness.
"TAC" – Total Active Cannabinoids
205.77
"TAC" – Total Active Cannabinoids-205.77
Total active cannabinoids represent the total amount of active cannabinoids at the time of lab testing. This total of active cannabinoids considers all of the active compounds that the product holds.
THC-D9 (Delta 9–tetrahydrocannabinol)
69.28
THC-D9 (Delta 9–tetrahydrocannabinol)-69.28
Delta 9 THC is the primary compound found in the resinous glands of a cannabis plant, and is directly responsible for psychoactive effects. It mirrors the body's naturally occurring cannabinoids and attaches to these receptors to alter and enhance sensory perception. THC can create a feeling of euphoria by enhancing dopamine levels in the brain. The amount of THC in a cannabis product can vary widely based on the method of consumption and the strain at the source of that product. The high that is produced is often enhanced by the "entourage effect" which is a combination of multiple cannabinoids in conjunction with various terpenes and individual body chemistry.
About the brand :
Ration
RATION BELIEVES IN SUPPORTING OUR NATION'S HEROES.
Their price accessible cannabis is rooted in social responsibility. They provide innovative, sessionable products made for everyday use. With each purchase, you help a hero. Do good. Feel good.